2:30 am and I was sitting on the floor of the Port Authority Bus Terminal. There was a woman about three yards away to my right that decided to take up stretching, though she was clearly way past due. To my left and in front of me was a group of young ladies discussing how dirty this floor may be because she wanted to take her shoe off to scratch her foot. I'm only here because my Uncle P inspired me to take another flight of fancy.
This time indirectly as he was not performing. However, it was a tribute to him in Carnegie Hall, a venue I've always wanted to see. This legendary stage was lit purple and probably had more soul on it than at any other time. Another dream fulfilled as I got to hear Eric Leeds and Wendy Melvoin play live. And not just playing live, but playing Mutiny and I Wonder U. Songs that are forever tethered to their faces and instruments though Prince
'
s moniker encompasses it all.
I wasn
'
t particularly excited by a performer over another when the show was announced. Though I had heard of some of them, it was not like I
'
m a rabid fan. But talent was evident as I read the names. I knew QuestLove would make some good song selections too. Part of what I felt throughout the evening was how well suited the performers were to their song of choice. Either because of their own personal history with the music or how their talent seemed to be perfectly aligned to the tune.
There were numerous pleasant surprises or memories:
Making it to my seat just in the nick of time to hear a roaring rendition of Purple Rain to start the show by The Waterboys, with an epic violin solo in lieu of the guitar. We sang along like it was our duty. I was just astonished by the passionate rendition of this showstopper to begin the show!
Princess (Maya Rudolph and Gretchen Lieberum) singing the reverse ending of Darling Nikki in its entirety, in unison, and to perfection. Not to mention, Maya doing body rolls in heels while clearly pregnant. I held my breath for her a few times, to be honest.
Kat Edmonson

'

s chilling rendition of the Beautiful Ones that really brought out the melancholic longing that

'

s under all the theatrics and wailing. You could have heard a pin drop while she sang accompanied by a pianist only. Well in fact, what I remember hearing was the girl sitting in front of me correcting her when she had a little lyric slip. Prince diehards are a brutal audience but by the time she left the stage, this unknown had our respect without doubt.
Devotchka

'

s bluegrass rendition of Mountains with a tuba! You know me, I get giddy at the sight of a horn section.
Susannah of Fdeluxe, aka the Family, and Wendy

'

s sister truly feeling herself throughout their entire performance. I don

'

t think I had ever seen someone strutting around like that before. I swear I saw Wendy taking a moment to pick which microphone to sing into because Susannah was acting like it was a game musical chairs. I could only imagine how the man himself would have reacted to seeing his former fiancé on the stage showing out. Think Trey Songz

'

singing Purple Rain at the BET Awards but better.
Eric Leeds. Nothing else really needs to be said here.
Chris Rock reciting the end of If I was Your Girlfriend only as he can (i.e. with many many more fucks for emphasis)
Annie Christian by Talib Kweli, who of course injected the current gun violence into the lyrics further demonstrating how a Prince track from 1981 is still topical. The Roots with Wendy absolutely killed the music on this one. This song was definitely on my never gonna hear it live cuz I was born at the wrong time list but not anymore!
Bilal

'

s shockingly epic version of Sister. This was another track that I never thought I would hear live and definitely not in Carnegie Hall. He turned a song that barely clocks in at a minute into a emphatic roof-shaking crooning to punk screeching performance.
Elvis Costello decided to play the only unreleased track of the night, Moonbeam Levels, and proceeded to catch the spirit. The sound wasn

'

t great in the balcony on that performance so I couldn

'

t make it out as well. But it was fascinating to watch him feeling the music so much he walked on and off without even playing the guitar he wore.
Bettye Lavette showed how Kiss should be performed as a sassy and soulful track. She strutted off stage in her purple velvet jacket and I loved every minute of her performance. I knew she wouldn

'

t disappoint. Seeing someone old enough to be my grandmother on stage rocking her hips and crooning from her toes just made me smile so wide.
Sandra Bernhard dropped it low during her spoken word, half sung rendition of Little Red Corvette. I felt like I was watching her relive being twelve years old performing in her room with a hairbrush. Her and that track had history, which she laid out on that stage. I loved the presence of comedy in the night because I think people often miss that aspect of Prince

'

s work.
Nina Persson singing Nothing Compares to U with such emotion and then just gracefully leaving the stage like she didn

'

t just show us her soul through her voice.
Alice Smith and Citizen Cope performing for the first time as a married couple with an acoustic take of Pop Life. I love the way she enunciated and punctuated her words. They had impact just like the lyrics are supposed to.
Bhi Bhiman was another unknown that came out with naught but his acoustic guitar and a voice that reminded me of John Legend. He broke into When Doves Cry. Again, I felt like the lyrics had space to really breathe and bounce around the room and all of our minds. Allowing them to get caught up in my memories of the song, the video, the movie, and what was happening right in that moment and how it related to my life now.
The Blind Boys of Alabama took us to church with a soaring version of The Cross. Never once did anything feel out of place demonstrating how expansive the world of Prince really is. At the drop of a hat I could be on the back of motorcycle being taken to a barn by a lake to lose my virginity (a song that was sung earlier in the night by Diane Birch and teen choir that brought back memories of singing in chorus) and the next, I am being shown the poorest of the poor that persevere because of their faith. It is all fair game because it is all a part of life. Prince

'

s music is a living accumulation of experiences.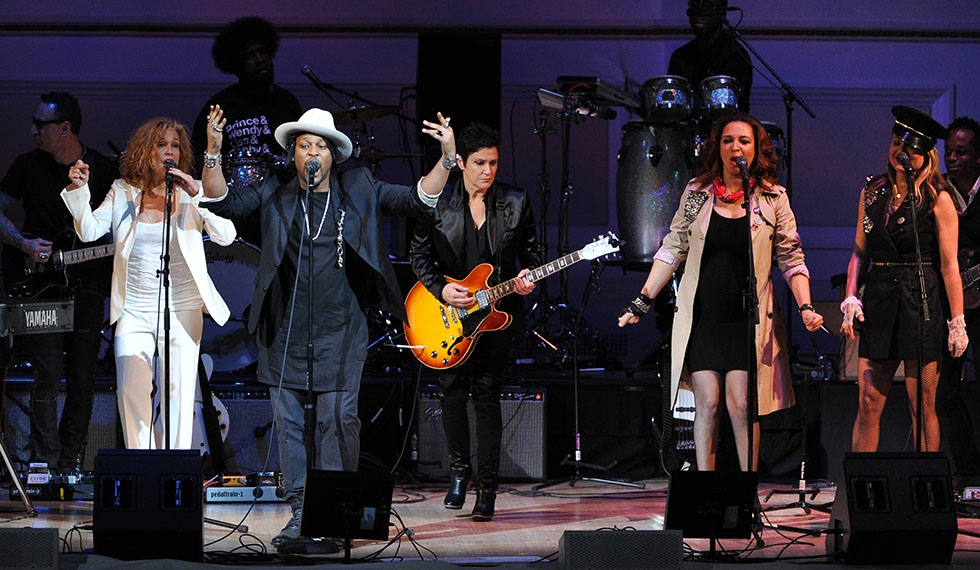 D

'

Angelo triumphantly wrapped up the show with A Beautiful Night and 1999 with everyone else joining him on stage. You could tell he was happy to be on that stage. That he knew every adlib, every mic trick, and he was gonna show out. The audience got to its feet during 1999 and I politely kept my seat not wanting to block anyone behind me. But when I turned and the woman behind me said,

"

Its fine, come on!

"

I left my seat and began to clap along. I love that communal feeling at gigs that comes with joint action. I looked around me and I saw that to my right was a lesbian couple; behind me was a row of young black artsy looking types that I had to correct earlier in the night when they didn

'

t know that Dirty Mind was his third album; and to my left was an older white-haired man who looked like his name was Herb in a plaid shirt, suspenders, and khakis clapping along and swaying. Complete motley in unison having a beautiful night.
At the end, as the Roots left the stage, Captain Kirk pumped his guitar to the crowd which someone had to have repaired due to someone borrowing it for his performance of Bambi on Jimmy Fallon where he ripped it and then proceeded to throw and break the guitar!
I left the theatre, in search of food and wondering if it will always be raining every time I am in New York for a gig. I went to a late night diner and then made my way to AMC Theatres to see Jack the Giant Slayer. It was great to be indoors and warm; plus, I have an endless love for the Brits, so a movie full of cockney giants really made my night. Then it was back to the bus station where our story began.
As the night wore on, more unique individuals began to congregate and I started to walk around to keep myself awake. Finally the bus showed up and we had the nicest bus driver. His name was Al and he gave his little speech with the cadence of a Quiet Storm radio DJ. Each statement began with
"
Ladies and gentlemen
"
and I couldn
'
t help but think of Mambo #5. I curled up in my seat as best I could and watch the wintery storm blanket the landscape outside of my window. I had just texted the day before that winter needed to wrap itself up but clearly that message wasn
'
t received by anyone that had any control. But, I thought to myself after I realized I had made it this far through my first Northeastern winter,
"
It will melt. It always does.
"
Like the maniac that I am, I went to work straight from the bus station. I was so exhausted I found myself only able to talk about being exhausted. But not once did I regret it. Not once did I say to myself, why did you travel to see other people play music that you love rather than the man himself? The night wasn
'
t about Prince. It was called
"
The Music of Prince
"
for a reason. It was about those songs. Those songs are my companions and this was a gathering to celebrate that as well as the diversity on the reach these songs have had. The span of their reach may only be matched the breadth of his styles.
These songs have seen me through so much and persist to take on new life as I continue to live mine. It is easy to forget and not listen as often. But this definitely acted as a reminder: Visit your Uncle P every once in awhile. He
'
s kin for a reason, plus there is always a gift waiting for you.